13.07.2007
school was really really short. (: i was lucky that i didn't got my arm stuck in the house gate today when i throw the keys back into the house! wow, it's like so lucky me! anyway, it's Friday, the 13th. superstitious? well, i'm not too sure of it myself. oh, there was a Chinese test, i rushed the paper until like fuck. but i did managed to complete everything. & Ms Choi even smiled at me when i wiped off the sweat on my forehead 2 minutes before the paper ended! hence, i just laughed at myself. :/ so anyway, went home after school & prepared my stuffs. i keep wondering whether or not to stay overnight. but Mummy's not, so it's not very nice for me to stay over, isn't it? i probably stank of beer, when i kissed Justin for million times. sweet.


so, we went to visit them for a little while at the chalet. ohmygod, Uncle Alan booked the wrong chalet can? the chalet was supposed to be at Costa Sands Downtown East, but he booked wrongly & it's the Costa Sands Pasir Ris! but nevermind, 'cos it weren't too bad there. it's just the god-damn hot weather that's killing me. Dad was ill & he fall asleep in the chalet. i really had nothing to do, & basically, i just going up to the second storey of the chalet to look for Justin, or just laze around on the ground floor drinking some beer. oh, & Uncle Kengi came for a little while. & we left when it's about 1 plus, & i drank about 3 cans of Heineken already. Dad drove us home & i sleep like a baby throughout the night. nice.

14.07.2007
woke up at 11 in the morning & got prepared, dressed, waited till about 1 in the afternoon to go down to the bus stop to get a taxi. okay, the taxi fare costs us a bomb, because Mummy left something really important at home, & she have to ask the driver to drive us all the way back to where he picked us up, & waited for Mummy. the fare was almost close to $20. so anyway, we reached there first, & other guests have yet to. we went to slack around, drinking beer again, & it was about late afternoon when Uncle Alan went swimming with Justin & Sis. it was some fun watching & laughing at them.


i also helped Uncle Alan's mom out with some barbeque-ing! it was great. oh, i mean, she was really really great. (: she told me a lot on how she made those food, & i feel they tasted absolutely amazing. i helped her with the chicken wings. there's a whole box of them, & 2 more in the fridge! & i use the thing & poke them throught straight up & nice. we barbequed them to golden brown, & wow, it's nice!


guests came pouring in during the evening time. oh, & i just go ga-ga over Aunt Irin's girlfriends can? :/ they were all young & married, but totally gorgeous! like, it just simply wow-ed me away. & my eyes almost popped out from seeing all that they have on them! i see them carrying the latest mobile phones, LV bags, GUESS heels as well! wow, i even tried one of the GUESS shoes! they were totally hot! (: thanks, to the lady who owns this GUESS shoes! (: oh, Aunt Irin's girlfriends asked me about coloured contact lenses & it seems like they were totally freaked out when they see me demostrates how to took them off & wears them. then, it was cake cutting. Justin's having an ice-cream cake this year!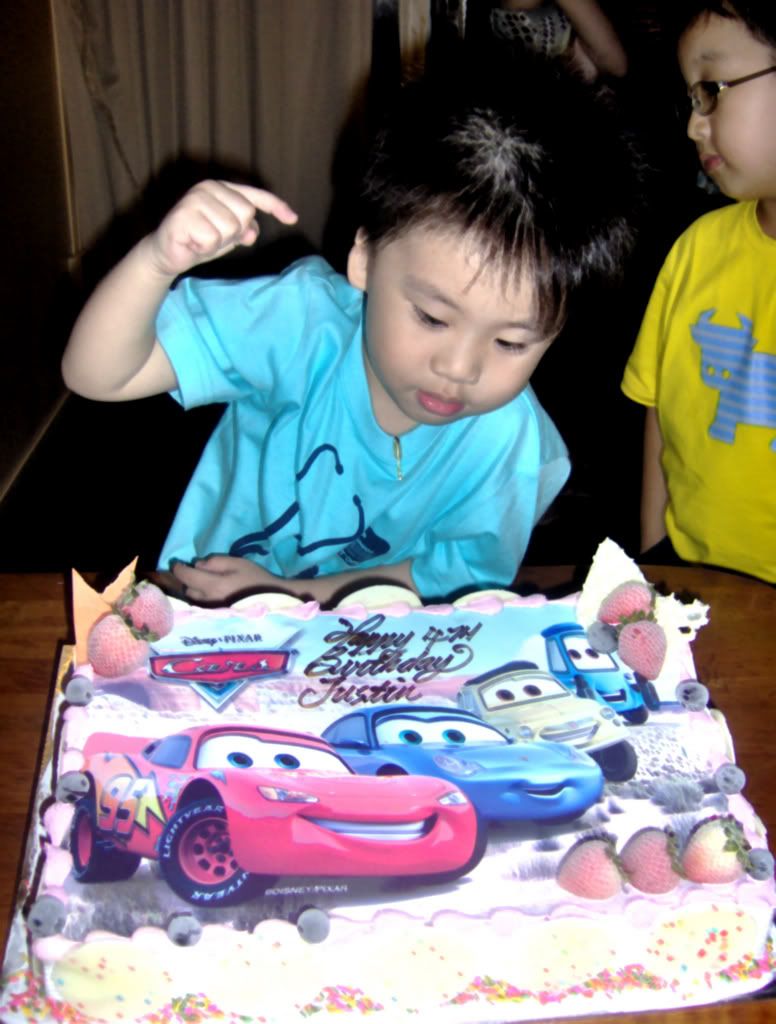 HAPPY 4TH BIRTHDAY, BABY JUSTIN!


it's before 11 when most of the guests have left. i watched some ghostly movie with the girlfriends of Aunt Irin. they were such nice people. (: oh, then all the guests left. so it's just us, family. then we spent the night outside the chalet, making fun of everyone, drinking beer, & laughing so loud despite the fact that it's already 4 in the morning! poor Uncle Alan became the topic of all our conversation as we sat there making fun of me. Mummy could help but laughed at me when i laughed till i was on the floor. weird me. it's almost 5 when we all went to bed. & i just have the greatest time of my life with my family. i had about 6 cans of beer before i went to bed. & hopefully, i don't get a beer belly! laughs, kidding.

Uncle Alex complimented me on my drinking, but i said that all that matters is that you know how to drink. but the fact should remains that you should know how much to drink, & not drink too much. while i was with them the whole time, i noticed that they were naturally positive & happy people.
YONGXIN: Uncle Kengi, are you always so happy?
Uncle Kengi: yeah, i am always.
i just know that there's a hell lot of things weighing in my mind. but with the right people, & the people i loved most, i totally can place them aside. just like what i did for the past few days.




profile

Drew walks by me, can he tell that I can't breathe?
And there he goes, so perfectly
The kind of flawless I wish I could be
She'd better hold him tight, give him all her love
Look in those beautiful eyes and know she's lucky cause

your profile here.



wishlist

He's the reason for the teardrops on my guitar
The only thing that keeps me wishing on a wishing star
He's the song in the car I keep singing, don't know why I do

your wishlist here.



tagboard

So I drive home alone, as I turn out the light
I'll put his picture down and maybe
Get some sleep tonight

your tagboard here.
keep the width within 120.



affiliates

He's the time taken up but there's never enough
And he's all that I need to fall into...

layout: lyricaltragedy
icon: threemoresteps
inspiration: fruitstyle

your links here.