i was out with April the whole of today! it was tiring, definitely, but it's a hell lots of mavellous fun! we meet up at a coffeeshop near her place & i was a lil late. i got bubbletea already then we headed to the MRT station & went to Cityhall. we went to Marina Square & we went to try on clothes & take pictures in the fitting rooms. it was really fun, because i took whatever clothes that will look nice on me, to put it on them. i hope there'll be a fashion parade in Singapore.



after trying enough clothes in Marina Square, we headed to Yoshinoya & have our lunch. was totally famished, that i could eat a dinosaur. so yeah, we even ordered a second bowl of rice after finishing our first! & among all kinds of cosmetics that we forget to bring, we actually forget to bring our foundation. tsk. so anyway, we also headed to Suntec City Mall. you know, i love it there. April & i went bonkers with the toys & wow, i just feel sosososo young again. i mean, i haven't been having a good time lately & everything is stressing me down. i'm glad that a time-out like this really works.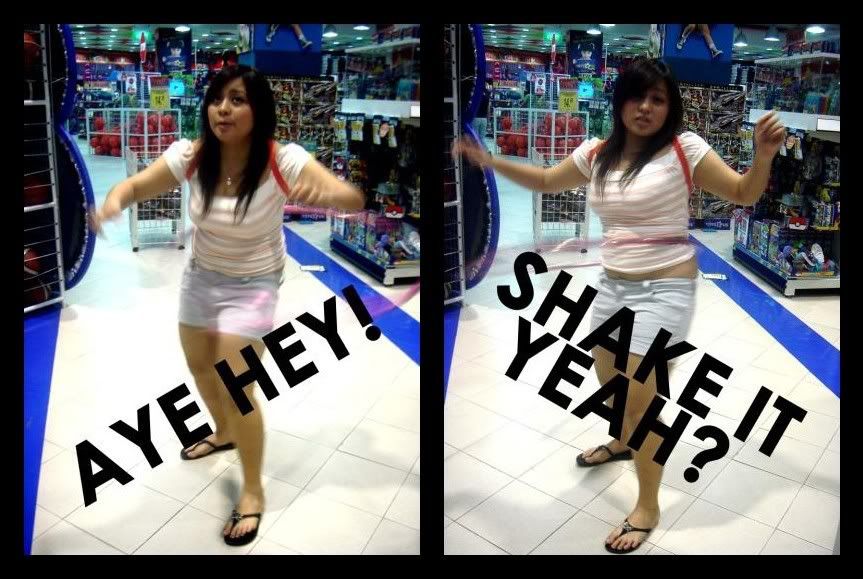 everything was pretty cool. we play some dolls, ponies, & we even see spongebob squarepants! i had some ice-cream & after that, we bus-ed home. it was a long ride, & we are really really sleepy.



april, thanks so much for the day. you were great great fun, you know?




profile

Drew walks by me, can he tell that I can't breathe?
And there he goes, so perfectly
The kind of flawless I wish I could be
She'd better hold him tight, give him all her love
Look in those beautiful eyes and know she's lucky cause

your profile here.



wishlist

He's the reason for the teardrops on my guitar
The only thing that keeps me wishing on a wishing star
He's the song in the car I keep singing, don't know why I do

your wishlist here.



tagboard

So I drive home alone, as I turn out the light
I'll put his picture down and maybe
Get some sleep tonight

your tagboard here.
keep the width within 120.



affiliates

He's the time taken up but there's never enough
And he's all that I need to fall into...

layout: lyricaltragedy
icon: threemoresteps
inspiration: fruitstyle

your links here.