i have to woke up at a freaking 5.30 AM in the morning yesterday, got my make-up & hair done, & then, rushed to have some breakfast at the market. it's too early for me to eat, but i see so many aunties & uncles tucking in their breakfast already. after that, cabbed all the way to Chua Chu Kang to meet Uncle Alan. give him a call, & he was still in bed, so i went up to his house first & waited for him. Tommy's going as well.

the journey was almost 2 hours long, my ass almost rot & sink into the seat of Uncle Alan's gorgeous car. when we were at the custom in Malaysia, Mummy together with Daddy & Sis went over to Uncle James' car who were already waiting for us at the junction. i remember saying -

"sigh, my ass almost died on me." - laughs at myself.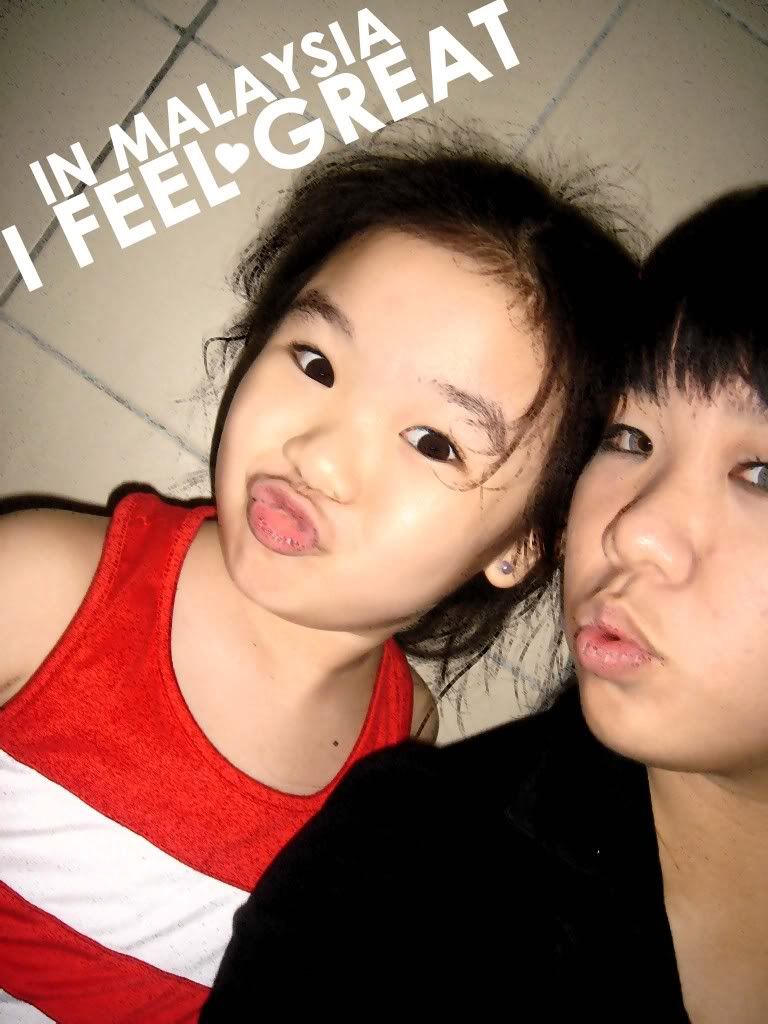 so yeah, we reached Uncle James' new house, a condo! Aunt Irin & baby Justin was already there days ago! Granny was there as well. bring it on, the house-warming part & Jiesi's first birthday! [: so anyway, went out for some breakfast (again) at the local coffeeshop there, splendid. i have trouble finding toilets, you know. & i did what i always did best, asking for directions. & i didn't even have a single freaking cent with me when i see the RM 20cents cardboard in certain toilets. almost died. i also past by a place, & Dad reminded me of it.
yeah, & we went shopping for DVDs, clothes & food. i brought a red hoody! we also went to Macs, & i'm taking a long time at the queue because i mixed up Singapore money with ringgits. how timely. Uncle Alan drove us back home before they went out again for haircuts, & also having their hair washed. back home, i was having a great time with Justin, who was still totally adorable sweetie.

he send his love to me, in between the doors. (: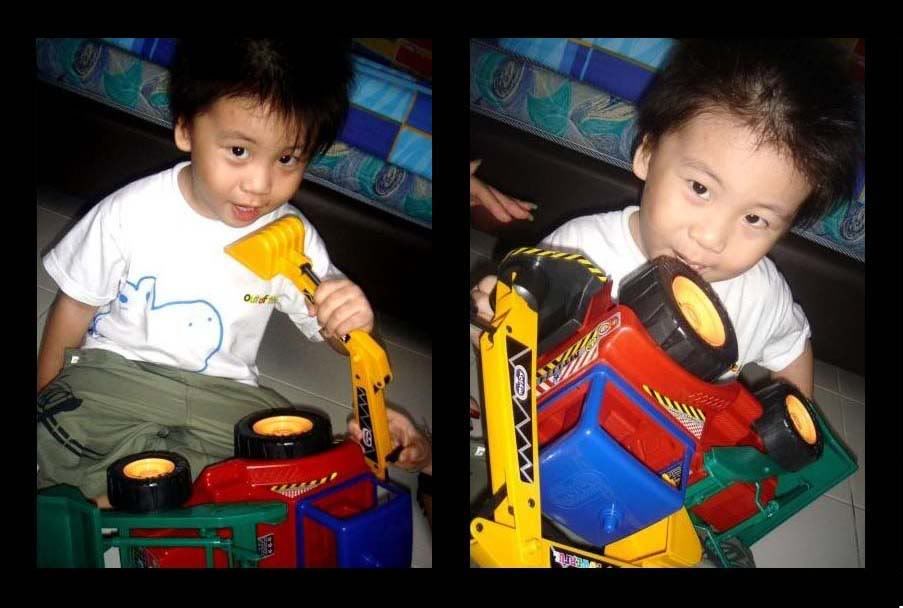 justin, & his new toy truck. kisses to it.


oh, i was told, that Justin know how to operate a computer! he knows how to switch it on, & switch it off! he knows how to let some stuffs load, & save them! mavellous. so, i ask him to pose.

evening arrived, & i down to a small povision shop to buy some bubble gums. saw Uncle James, so i help him to collect the birthday cake. it was really really heavy & i'm panting all the way home.
after almost an hour, guests came pouring in. some really don't have manners, just that i didn't say in front of them only. the whole sofa, your ass rest on it can already, need to rest your legs as well? so fucking rude. anyway, i saw this really cool guy who's about 5 or 6, with this really cool hairstyle.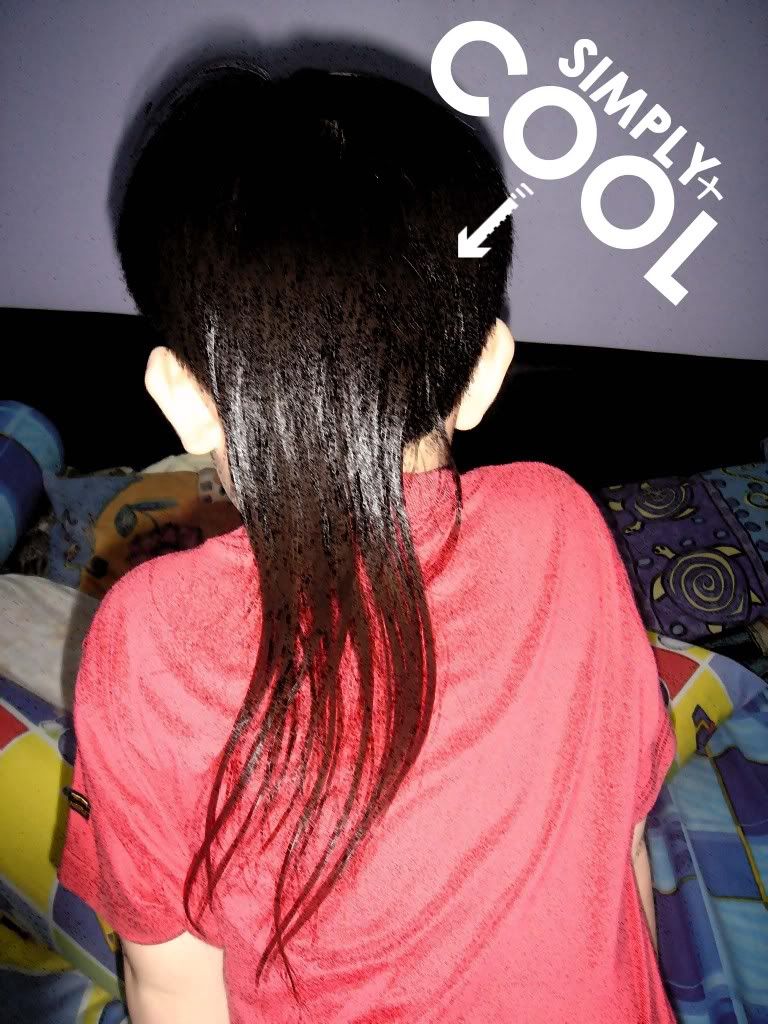 i asked him if school allows this, & that if he got punished for having such a long hair, he said no & that it was allowed in school! it really wow-ed me, you know. after that, we have dinner & basically, it's goodnight already. i was totally tired out & drained, but i really did enjoyed myself.



goodnight Jiesi, happy 1st birthday anyway! [:




profile

Drew walks by me, can he tell that I can't breathe?
And there he goes, so perfectly
The kind of flawless I wish I could be
She'd better hold him tight, give him all her love
Look in those beautiful eyes and know she's lucky cause

your profile here.



wishlist

He's the reason for the teardrops on my guitar
The only thing that keeps me wishing on a wishing star
He's the song in the car I keep singing, don't know why I do

your wishlist here.



tagboard

So I drive home alone, as I turn out the light
I'll put his picture down and maybe
Get some sleep tonight

your tagboard here.
keep the width within 120.



affiliates

He's the time taken up but there's never enough
And he's all that I need to fall into...

layout: lyricaltragedy
icon: threemoresteps
inspiration: fruitstyle

your links here.