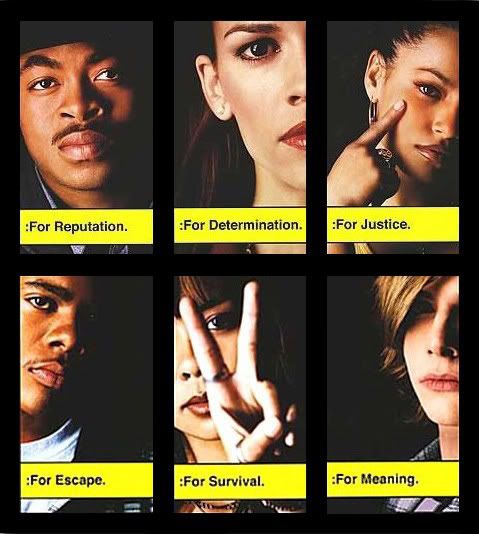 i guess today was really great, even though design & technology classes was really bored. but Anna & Danker was really great joy. they chat & laugh with me, & Anna even lend me her handphone to play for a really long time. (: after that, have recess with the rest of them & we waited in the parade square to get ready for the movies. the usual stuffs, lined up & we're off to go except that i have to rush to get my standard ticket. =/ yeah, i have a slight asthma attack, 'cos i was feeling all giddy when i make my way up the escalator. anyway, Cathay there was really really packed, especially the place for buying food like popcorns & drinks. i'm like sososo adore Freedom Writers. i could possibly adore any movie that's based on a true story. i like the storyline, you know. i swear i didn't take my eyes off the screen!


fresh–faced, idealistic twenty–three–year–old Erin Gruwell is ready to take on the world as she steps inside Wilson High School for her first day of teaching. her class, a diverse group of racially charged teenagers from different walks of life - african americans, latinos, asians, juvenile delinquents, gang members, & underprivileged students from poor neighborhoods - hope for nothing more than to make it through the day. on the surface, the only thing they share is their hatred for each other and the understanding that they are simply being warehoused in the educational system until they are old enough to disappear. despite her students' obstinate refusal to participate during class, Erin tries various means to engage them on a daily basis. but then ghetto reality steps in to focus the picture. a racially motivated gang shooting witnessed by a latina gang member in Erin's class, and an ugly racial cartoon that Erin intercepts during class, become the most unwittingly dynamic teaching aids. they spark a transformation in the classroom, compel them to listen and force her to take off her idealistic blinders and take in the kids' survival stories of their undeclared war on the streets. Erin begins to connect with them. she brings in music from the 'Hood, and literature from another kind of ghetto, The Diary of Anne Frank, and with these simple tools she opens her students' eyes to the experiences of those suffering intolerance throughout the world and the struggles of those outside their own communities. knowing that every one of her students has a story to tell, Erin encourages them to keep a daily journal of their thoughts and experiences. after sharing their stories with one another, the students see their shared experience for the first time and open up to the idea that there are possibilities in life outside of making it to the age of eighteen.
I LOVE FREEDOM WRITERS!


the movie is a must-watch, & yes, i did cried. i finally understand what Daddy is trying to say last night, when i was on the car with him to Ang Mo Kio Central's post office to pay some bills. i told him something about school & he said he have been throught anything that i mentioned. he said that he can't said i'm old enough, or can he said that i'm too young, i'm just a teenager & there's reasons only known to myself why i'm rebellious. after that, train-ed home with Ann & Dewi. was freaking tired, & i'm wondering if i'm attending school tomorrow. now, i'm bugging my parents for The Freedom Writers Diary.




profile

Drew walks by me, can he tell that I can't breathe?
And there he goes, so perfectly
The kind of flawless I wish I could be
She'd better hold him tight, give him all her love
Look in those beautiful eyes and know she's lucky cause

your profile here.



wishlist

He's the reason for the teardrops on my guitar
The only thing that keeps me wishing on a wishing star
He's the song in the car I keep singing, don't know why I do

your wishlist here.



tagboard

So I drive home alone, as I turn out the light
I'll put his picture down and maybe
Get some sleep tonight

your tagboard here.
keep the width within 120.



affiliates

He's the time taken up but there's never enough
And he's all that I need to fall into...

layout: lyricaltragedy
icon: threemoresteps
inspiration: fruitstyle

your links here.